AWG (American wire gauge) (American wire gauge) The American wire gauge, also known as the Brown & Sharpe wire gauge, is a standard for differentiating wire diameters. This standardized wire gauge system has been in use in the United States since 1857.
The number of holes through which the wire must be drawn to form its final diameter is denoted by the value preceding AWG (for example, 24AWG, 26AWG). The smaller the diameter of the wire and the higher the value, the wire is passing through the hole.
Although thicker wires have lower resistance and greater physical strength, they also require more copper to manufacture, which increases the cable's weight, installation difficulty, and cost. Using the smallest diameter wire possible (thus reducing cost and installation complexity) is a challenge in cable design, as is ensuring that the wire's maximum capacity is achieved at the required voltage and frequency.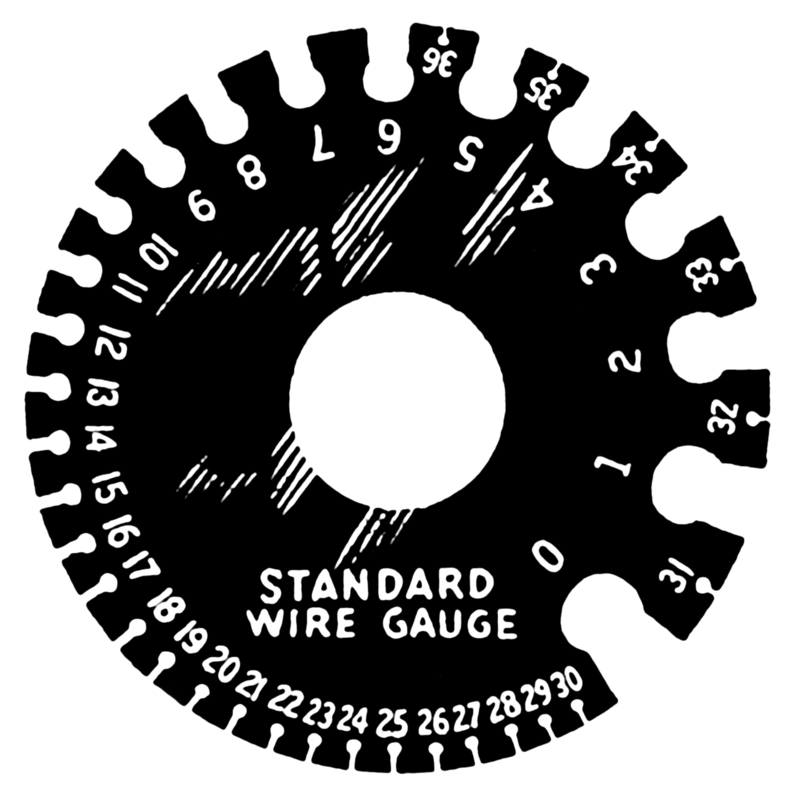 AWG Comparison Chart
AWG
Outer Diameter
mm
Outer Diameter
inch
area
mm²
Resistance
ohm/KM
4/0
11.68
0.46
107.22
0.17
3/0
10.40
0.4096
85.01
0.21
2/0
9.27
0.3648
67.43
0.26
1/0
8.25
0.3249
53.49
0.33
1
7.35
0.2893
42.41
0.42
2
6.54
0.2576
33.62
0.53
3
5.83
0.2294
26.67
0.66
4
5.19
0.2043
21.15
0.84
5
4.62
0.1819
16.77
1.06
6
4.11
0.1620
13.30
1.33
7
3.67
0.1443
10.55
1.68
8
3.26
0.1285
8.37
2.11
9
2.91
0.1144
6.63
2.67
10
2.59
0.1019
5.26
3.36
11
2.30
0.0907
4.17
4.24
12
2.05
0.0808
3.332
5.31
13
1.82
0.0720
2.627
6.69
14
1.63
0.0641
2.075
8.45
15
1.45
0.0571
1.646
10.6
16
1.29
0.0508
1.318
13.5
17
1.15
0.0453
1.026
16.3
18
1.02
0.0403
0.8107
21.4
19
0.912
0.0359
0.5667
26.9
20
0.813
0.0320
0.5189
33.9
21
0.724
0.0285
0.4116
42.7
22
0.643
0.0253
0.3247
54.3
23
0.574
0.0226
0.2588
48.5
24
0.511
0.0201
0.2047
89.4
25
0.44
0.0179
0.1624
79.6
26
0.404
0.0159
0.1281
143
27
0.361
0.0142
0.1021
128
28
0.32
0.0126
0.0804
227
29
0.287
0.0113
0.0647
289
30
0.254
0.0100
0.0507
361
31
0.226
0.0089
0.0401
321
32
0.203
0.0080
0.0316
583
33
0.18
0.0071
0.0255
944
34
0.16
0.0063
0.0201
956
35
0.142
0.0056
0.0169
1200
36
0.127
0.0050
0.0127
1530
37
0.114
0.0045
0.0098
1377
38
0.102
0.0040
0.0081
2400
39
0.089
0.0035
0.0062
2100
40
0.079
0.0031
0.0049
4080
41
0.071
0.0028
0.0040
3685
42
0.064
0.0025
0.0032
6300
43
0.056
0.0022
0.0025
5544
44
0.051
0.0020
0.0020
9180
45
0.046
0.0018
0.0016
10200
46
0.041
0.0016
0.0013
16300
AWG and mm² comparison table